Amazon's third-quarter earnings fell short of street expectations on Thursday, driving its stock down as much as 9% in after hours trading.
It also gave dismal revenue guidance for the holiday shopping season, spooking investors who were expecting a huge pay off from Amazon's growing investments across the company.
Here's what the company reported versus analyst expectations:
EPS: $4.23 vs. $4.62, according to analysts surveyed by Refinitiv
Revenue: $70 billion vs. $68.8 billion, according to analysts surveyed by Refinitiv
AWS: $9 billion vs. $9.1 billion, according to analysts surveyed by FactSet
Revenue grew 24% to $70 billion for the quarter, showing the heavy investment in free one-day shipping is leading to more purchases. Amazon spent over $800 million in each of the last two quarters to expand its free one-day delivery program to more products and regions, and said it is expecting to spend another $1.5 billion in the initiative during the fourth quarter to expand its warehouse footprint and product selection. It also pointed to increased spending on the growing cloud business and bolstering its advertising sales force.
"Customers are buying more often and they're buying more products," Amazon CFO Brian Olsavsky said during a call with reporters.
However, Amazon's fourth-quarter revenue guidance came in between $80.0 billion to $86.5 billion, far below the street's average estimate of $87.4 billion, indicating the all-important holiday shopping season may be underwhelming.
The return to a heavy investment cycle is cutting into Amazon's profitability. Its net income dropped to $2.1 billion, down 26% from the year-ago period's $2.9 billion. For the fourth quarter, Amazon is forecasting operating income to fall between $1.2 billion and $2.9 billion, also below the $4.2 billion street estimate.
Amazon's cloud business, meanwhile, had $9 billion in quarterly sales, falling slightly below analyst expectations of $9.1 billion. AWS operating income totaled $2.26 billion, up 9% from the year-ago period but below the $2.55 billion FactSet consensus estimate. For the past four years, AWS has provided the bulk of Amazon's operating income, so slowing growth could be a drag on earnings going forward. The 35% revenue growth rate was the slowest since AWS started disclosing that number in 2015.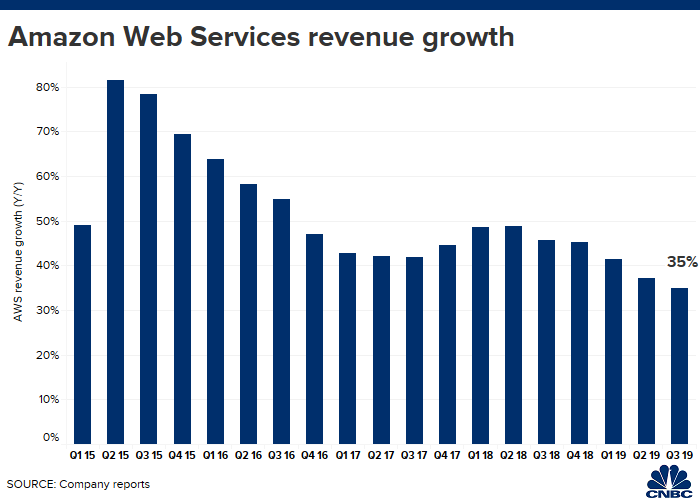 In a prepared statement, Amazon CEO Jeff Bezos highlighted the company's free one-day delivery initiative, saying it's leading to higher customer satisfaction.
"Customers love the transition of Prime from two days to one day — they've already ordered billions of items with free one-day delivery this year. It's a big investment, and it's the right long-term decision for customers," Bezos said.
Amazon's stock was up 18% this year, slightly below the 20% gain for the S&P500.
Third quarter results include sales from Prime Day, which the company called its biggest shopping event in history. Amazon previously said Prime Day sales surpassed those of Black Friday and Cyber Monday combined, with more than 175 million items sold over the 48-hour event.
Amazon, however, didn't provide any additional commentary around the regulatory environment, which has become a hot-button issue lately as politicians from both sides of the aisle have called for heavier scrutiny of the company's business practices.