As the stock market heads for all-time highs, some retirement savers are reaping the benefits.
The number of Fidelity 401(k) plans with a balance of $1 million or more jumped to a record 200,000 as of Sept. 30, according to a new report by Fidelity, the nation's largest provider of 401(k) plans. The financial services firm handles more than 30 million retirement accounts altogether.
In addition, the number of individual retirement account millionaires increased to 182,400, also an all-time high.
More from Your Money Your Future:
Here's how much you can save toward retirement in 2020
The hidden benefits of a Roth IRA conversion
Don't miss the tax advantages of this savings account
Overall, the average 401(k) balance fell slightly to $105,200, down 1% from last year's all-time high balance of $106,500, while the average IRA balance was also lower as of the third quarter, down to $110,200 from last year's high of $111,000, Fidelity found.
Still, nearly a third of savers increased their contribution rate during the last year, Fidelity said. The average 401(k) contribution rate is now 8.8% — not including the employer match — the highest percentage ever.
On top of that, employers are contributing another 4.6%, on average, bringing the total contribution to 13.4%.
"We are definitely seeing improved savings behaviors," said Meghan Murphy, a vice president at Fidelity Investments. "If we go back 10 years, they were saving 11.8%."
Yet, those who have hit the $1 million mark are saving more than 20%, Murphy added. "They are saving throughout their entire careers and they are saving at relatively higher rates."
As a rule of thumb, Murphy recommends saving 10 times your income by retirement age. Although "people like the $1 million number, but there are definitely people out there that need to save more and people that need to save less," she said.
A more accurate picture of your retirement number should be based on how much you make and how you want to live in your golden years.
"Do you want to travel the world or sit back and watch the grandkids grow?" Murphy said. "We encourage people to plan for their specific situation."
Although it was long been considered the gold standard, $1 million is also likely not enough for many retirees.
On average, Americans now believe they need $1.7 million to retire, according to a separate survey from Charles Schwab, which looked at 1,000 participants in 401(k) plans nationwide. Those polled are contributing $8,788 a year on average, Schwab found.
That's only about half of the maximum allowable contribution for 2019, which is $19,000, plus $6,000 if you're 50 and over. Next year, you will be able to save up to $19,500 in your 401(k).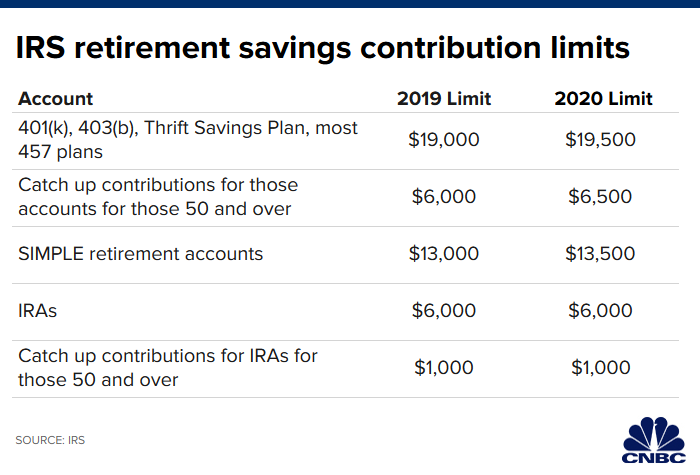 To increase the amount you sock away, Murphy recommends opting into an auto-escalation feature, if your employer offers it, which will automatically boost your savings rate by 1% or 2% each year.
"For people who are looking to achieve 401(k) millionaire status, the savings rate will have the biggest impact," Murphy said.